"Four Fermion" Events
---
Remember the example diagram we used to represent
events: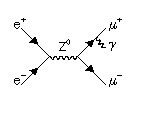 Instead of flying out and being observed in the calorimeter, sometimes the photon produces an additional particle-antiparticle pair. Such events contain two particle-antiparticle pairs. For example: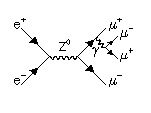 .

These events go by the jargon name "four fermion" events. Here is an example event that contains electron-positron and muon-antimuon pairs:
---
Example Four Fermion Event
End-On View of Event
Side View of Event
---

Back to general section on "How to Identify Some Slightly More Complicated Types of Event".
---

Back to Home Page with table of contents.
---

Terry Wyatt. March 1997.