12/09/1998
Haifeng Wu
Surface temperature of chip in 3_in_1 Card
Abstract: a thermal test was carried out during Dec.7th and Dec. 8th. The result of test shows that the highest temperature on the surface of any chip on the 3_in_1 card is about 29.6° C, while the 3_in_1 card is in normal working condition, assembled with a PMT in an iron tube, with the tubeís surface cooled to 18.1° C.
Temperature on chipís surface
A 3_in_1 card was put on the test board and connected to the test setup, and an oscilloscope monitored the output signal of 3_in_1 card. 30 minutes after power on, we began to measure the surface temperature of each chip on the card. A thermocouple probe was placed carefully on the surface of every chip and the temperature of every chip was recorded. The table below shows the temperature of every chip on 3_in_1 board, and the average temperature is 32.1° C, while the room temperature was 24.6° C.
Table 1. Temperature on chip surface
Chip

Surface temperature

(° C)

Temperature difference (° C)

relative to average

Temperature difference(° C)

Relative to room temperature

OP420G

31.6

-0.5

7.0

DG412DY

32.0

-0.1

7.4

LF411C

30.9

-1.2

4.3

CL502

33.6

1.5

9.0

CL501

33.9

1.8

9.3

OPA4650U

34.4

2.3

9.8

CL405-1

30.2

-1.9

5.6

CL405-2

30.9

-1.2

6.3

DS26C32-1

30.6

-1.5

6.0

DS26C31

30.6

-1.5

6.0

EPM7064LC44

34.2

2.1

9.6

DS26C32-2

31.2

-0.9

6.6

AD7533

32.7

0.6

8.1

DG611DY

32.8

0.7

8.2

DG211BDY

32.0

-0.1

7.4

ORNA1002

33.1

1.0

8.5
Temperature test in assembled tube
We fastened the thermocouple probe onto the surface of chip OPA4650U with glue, and assembled the 3_in_1 card with PMT and light mixer into an iron tube and put on the rear cover. The iron tube was placed on a thermoelectrically cooled plate with the axis vertical, card end up. The 3_in_1 card was connected to the test setup and power turned on. The cold plate began to cool the tube down. In order to make a uniform temperature distribution, the iron tube was covered tightly with plastic sheets.
After 16 hours, the surface of the iron tube was cooled down to 18.8 degree centigrade, and the temperature on chip OPA4650U was 29.1 degree centigrade.
We made another test. This time the iron tube was laid on the cold plate with axis horizontal, and covered with plastic sheets. We took the temperature both on the surface of iron tube and chip OPA4650U.
Table 2. Temperature on tube surface and temperature on chip surface
Temperature on iron tube surface

(° C)

Temperature on OPA4650U surface

(° C)

Temperature difference

(° C)

28.5

37.7

9.2

21.1

32.1

11.0

18.8

30.3

11.5

18.1

29.6

11.5

17.5

29.1

11.6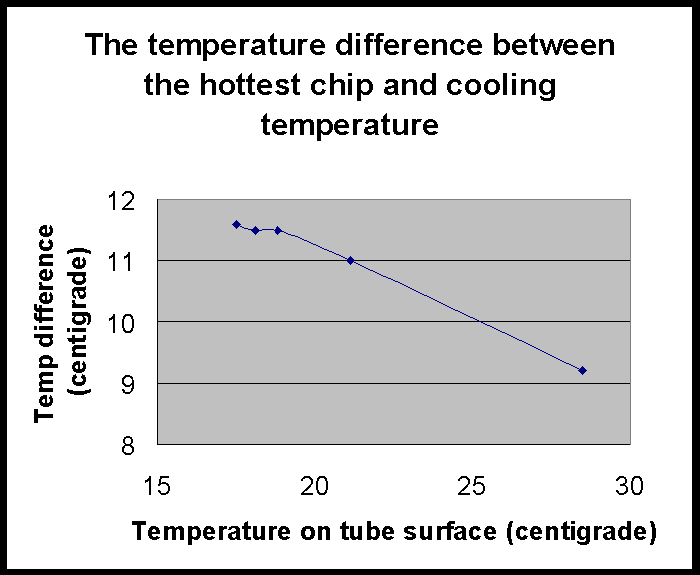 3. Conclusion
The highest temperature of chip on 3_in_1 board under normal operating condition is below 30 degree centigrade, when the system is cooled down to 18 degree centigrade. There is no extremely hot chip.